There are few things harder when pursuing a diet that is both gluten free AND low carb than finding a bread that actually has…a BREADLIKE texture.  Many GF-LC breads rely heavily on eggs to bind them together and thus feel more like quiches than they do breads.  I mean, I love me a quiche, but I wouldn't try to make a sandwich out of it.
Additionally, I love Cheddar Bay Biscuits from Red Lobster and I am not afraid to show it.  But…I shouldn't eat them anymore.  What's a woman to do?  MAKE HER OWN, THAT'S WHAT.
Equipment needed: kitchen scales (possibly), hand or electric mixer, big mixing bowl, muffin tin
Ingredients:
1/3 cup coconut flour
4 eggs
5 tablespoons of coconut oil or butter (for all you paleo fans, I use coconut oil and this comes out fantastic!)
1/2 tsp baking powder
1/4 tsp sea salt
1 tablespoon garlic powder OR minced garlic if you prefer
1 tsp oregano
1 tablespoon chives
1 tsp parsley
6-8 ounces shredded sharp cheddar cheese (but feel free to use your favorite cheddar)
1/2 tablespoon xanthan gum (trust me on this — you may be able to find this at a grocery store or specialty grocer, or order it online — it keeps "rougher" not gluten flours from giving your bread a terribly grainy texture) (however, paleo folks may want to omit it)
Instructions:
Preheat oven to 400.  Mix all ingredients but the cheese in and combine until smooth.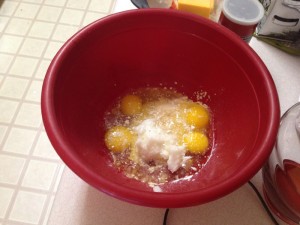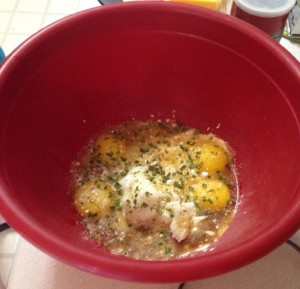 Add the cheese last and mix evenly into the batter.
Using your hands or a spoon, form batter into baseball-sized balls and place into a lightly-greased muffin tin.  As you can see, this recipe makes six.  It doubles easily, but beware…these biscuits only keep for about 3-4 days outside a freezer!
Bake at 400 for 12-15 minutes or until tops start to brown.  I also tend to broil them for just one minute longer for an extra added crispy CRUNCH.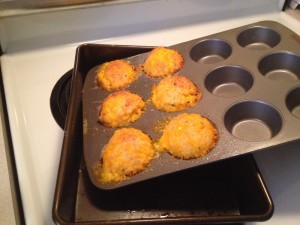 They're not perfectly like Cheddar Bay Biscuits, but for those of you who want to eat gluten free and/or low carb, they are a REALLY good biscuit analog.  Trust me.
There's one missing in the above picture because I ATE IT.
For those of you who are following Atkins: each biscuit contains about 3.5 net carbs.
Enjoy and rock on!